Tank Girl: Total Tank Girl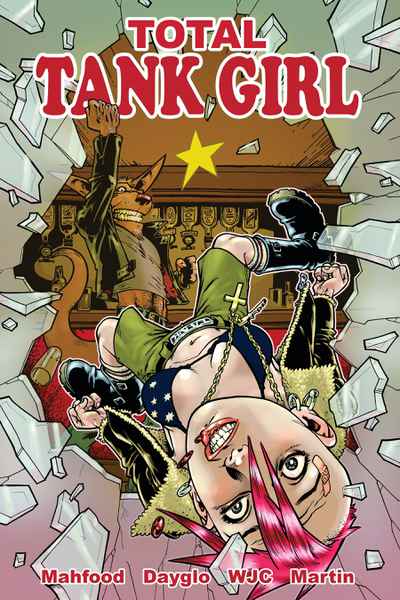 Paperback | Sep 2017 | Titan Comics | 9781785863059 | 288pp | 229x152mm | GEN | AUD$37.99, NZD$45.00

Tank Girl returns for more classic carnage in this bumper-sized collection of three madcap adventures!
Tank Girl: Everybody Loves Tank Girl: Everyone's favorite outback anarchist is back to blow things up, swear profusely and offend the elderly! Alan C. Martin teams up with wunderkind Jim Mahfood to bring you Tank Girl as you've never seen her: wild, raw, foul-mouthed and forever rockin' but rendered in a style that will bring pleasure to thine eyes. Meet The Wee Wee Brothers, travel south to a Hippie Fest with all the gang, take a tour around Booga's factory, and let Tank Girl show you How To Dress Quite Good.
Tank Girl: Solid State Tank Girl: Spawned in Booga's testicle, Anti Tank Girl is the worst nemesis Tank Girl has ever faced, and she's out to replace Tank Girl for good! TG and her gang of misfits will have to draw on all their innermost powers to defeat the disgusting doppelgänger before it's too late!
Tank Girl: Bad Wind Rising: A holiday. A hold-up. A murder. A car chase. A mound of dog poo. A very large vodka. A fistfight. A kick in the groin. An earthquake. A mutant surfer. A lorry heist. A thousand pairs of panties. A tiny moped. And a gang of killer kangaroos after Tank Girl's scalp. Don't miss this twisted action adventure!