Rivers of London
Rivers of London: 1-3 Boxed Set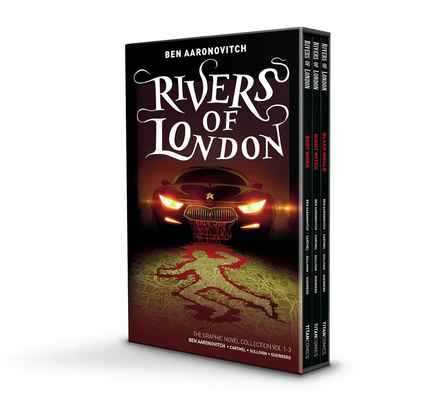 Paperback (B-format paperback UK (198x129mm)) | Nov 2018 | Titan Comics | 9781785869303 | 384pp | 257x168mm | GEN | AUD$69.99, NZD$79.99
Dive in at the beginning of the bestselling cops and wizards series from chart-topping author (and comics writer) Ben Aaronovitch, with this Box Set Edition of the first three graphic novels!
A stunning box set edition of the bestselling first three graphic novels in the Rivers of London sequence, starring Ben Aaronovitch's laconic trainee wizard and budding detective, Peter Grant. All-new adventures for Peter and the Folly - that are essential parts of the smash-hit novel continuity! Peter Grant is part of a very special London police unit. Full-time cop and part-time wizard, he works on rather unusual crimes - those that involve magic and the general weirdness that permeates London's dark underbelly.
In the first volume, Body Work, Police Constable Peter Grant and his boss, Thomas Nightingale, London's only wizarding cops, tackle a case that begins with a perfectly innocent car on a homicidal killing spree - without a driver.
In the second volume, Night Witch, Peter and Nightingale are press-ganged into helping a Russian oligarch hunt his missing daughter, where they are caught up in a battle between Russian gunmen, a monstrous forest creature - and their nemesis:
In the third volume, Black Mould, something dark and slimy is dripping through the walls of suburban London. Not the usual stuff that smells funny and can be hell on the lungs, this mould is possessed by dark power and worse intentions.