No More Boats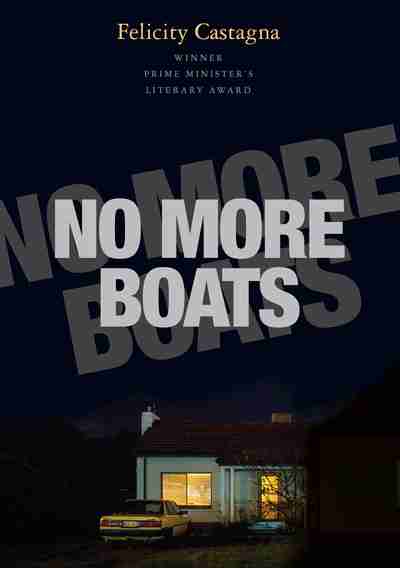 Paperback | Jun 2017 | Giramondo Publishing | 9781925336306 | 232pp | 210x148mm | GEN | AUD$26.95, NZD$32.99

New novel by Felicity Castagna, whose previous book, The Incredible Here and Now, won the 2015 Prime Ministers Award for Young Adult Fiction and was shortlisted for the CBCA and NSW Premier's Literary Awards.
No More Boats tackles the fear of refugees head on, portraying the anxieties of a man who was once a migrant himself, brought to breaking point by the Tampa crisis, when the nation itself is thrown into a xenophobic frame of mind.
It is 2001. 438 refugees sit in a boat called Tampa off the shoreline of Australia while the TV and radio scream out that the country is being flooded, inundated, overrun by migrants. Antonio Martone, once a migrant himself, has been forced to retire, his wife has moved in with the woman next door, his daughter runs off with strange men, his deadbeat son is hiding in the garden smoking marijuana. Amidst his growing paranoia, the ghost of his dead friend shows up and commands him to paint 'No More Boats' in giant letters across his front yard. The Prime Minister of Australia keeps telling Antonio that we will decide who comes to this country and the circumstance in which they come, but Antonio's not sure he wants to think about all those things that led him to get on a boat and come to Australia in the first place. A man and a nation unravel together.
Felicity Castagna is the author of the award-winning novel The Incredible Here and Now, and its stage adaptation which will premiere at The National Theatre of Parramatta in 2017. Her collection of short stories Small Indiscretions was named an ABR book of the year. Her work has appeared on ABC Radio and TV as well as in national journals and newspapers. She holds a PhD from Western Sydney University and has served as the National Ambassador for Literacy and as a director at WestWords. She runs the storytelling series Studio Stories.
Read more about Felicity Castagna and her stunning work of fiction, No More Boats, here.
'It is exciting to read a work of fiction that makes an explicit connection between its characters' personal narratives and the specific events of political history; something of a tradition in American fiction, but rarer in an Australian context.' — Delia Falconer
'A fantastic, timely novel that makes a significant contribution to contemporary Australian literature — well-written, insightful, entertaining, provocative, funny, intelligent and moving.' — Nathanael O'Reilly
'I was blown away by Felicity Castagna's depictions of Western Sydney in The Incredible Here and Now…There is something really quite magical and visceral about connecting with character and place in a book.' — Randa Abdel-Fattah