The Rock Maiden: A Chinese Tale of Love and Loyalty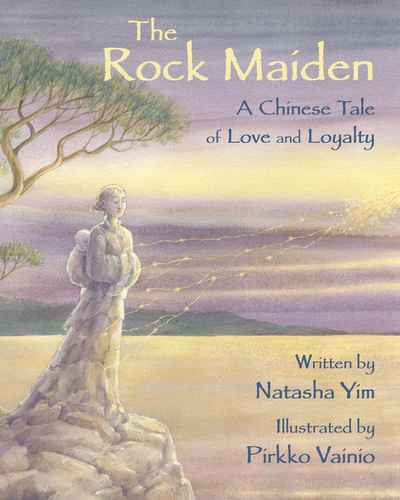 Ages 3 to 8 years
When her fisherman husband fails to come home after a storm at sea, the beautiful maiden Ling Yee is heartbroken. Every morning, she puts her baby on her back and clambers to the top of a cliff looking for any signs of his return. But day after day, she is disappointed. The villagers try to convince her to give up her vigil. "No," she would say, "He will come home soon." Tin Hau, the Goddess of the Heavens, takes pity on her grief and turns Ling Yee and her child into stone so that they would mourn no more.
The fisherman eventually finds his way home - only to discover that his wife has been transformed into the Rock Maiden.
Will the family forever be kept apart? Or will devotion and faithfulness ultimately be rewarded? Find out in this re-envisioning of an old Hong Kong legend by award-winning author Natasha Yim, featuring stunning illustrations by renowned Finnish artist Pirkko Vainio.