No One Eats Alone: Food as a Social Enterprise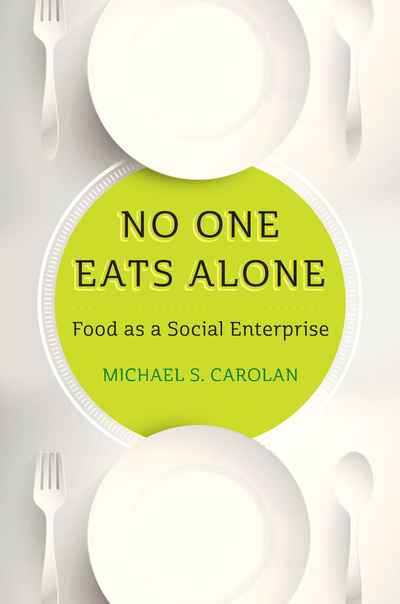 In today's fast-paced, fast food world, everyone seems to be eating alone, all the time. Whether it's at their desks or in the car. Even those who find time for a family meal are cut off from the people who grew, harvested, distributed, marketed, and sold the foods on their table. Few ever break bread with anyone outside their own socioeconomic group.

So why does Michael Carolan say that that no one eats alone? Because all of us are affected by the other people in our vast foodscape. We can no longer afford to ignore these human connections as we struggle with dire problems like hunger, obesity, toxic pesticides, antibiotic resistance, depressed rural economies, and low-wage labor. Carolan argues that building community is the key to healthy, equitable, and sustainable food. While researching No One Eats Alone, he interviewed more than 250 individuals, from flavorists to Fortune 500 executives, politicians to feedlot managers, low-income families to crop scientists, who play a role in the life of food.
Advertising consultants told him of efforts to distance eaters and producers — most food firms don't want their customers thinking about farm laborers or the people living downstream of processing plants. But he also found stories of people getting together to change their relationship to food and to each other. There are community farms where suburban moms and immigrant families work side-by-side, reducing social distance as much as food miles. There are entrepreneurs with little capital or credit who are setting up online exchanges to share kitchen space, upending conventional notions of the economy of scale. There are parents and school board members who are working together to improve cafeteria food rather than relying on soda taxes to combat childhood obesity.
Carolan contends that real change only happens when we start acting like citizens first and consumers second. No One Eats Alone is a book about becoming better food citizens.