Phasmid: Saving The Lord Howe Island Stick Insect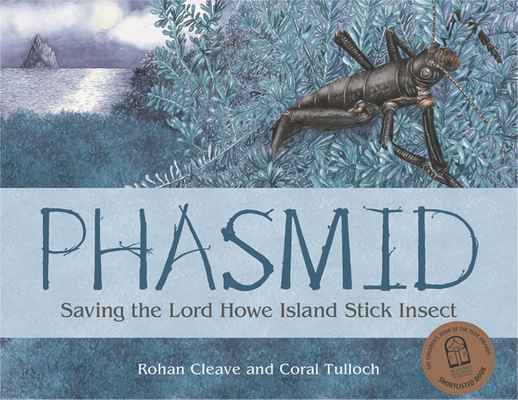 Hardback | Sep 2015 | CSIRO Publishing | 9781486301126 | 32pp | 220x285mm | GEN | AUD$24.95, NZD$29.99


Age range 4 - 7
Phasmid presents the amazing true story of the Lord Howe Island Phasmid – or Stick Insect. Once thought to be extinct, the phasmids were rediscovered on Balls Pyramid, a volcanic outcrop 23 kilometres off the coast of Lord Howe Island, Australia, prompting an extraordinary conservation effort to save this remarkable insect.
With a captivating narrative by Rohan Cleave and stunning watercolour illustrations by renowned artist Coral Tulloch, Phasmid is a positive story about one species' incredible story of survival in a time of worldwide species decline.
"Phasmid tells the remarkable story of the rediscovery and rescue of the Lord Howe Island Stick Insect. IT WAS thought that this species was extinct – lost forever – until one moonlight night a few surviving insects were found on a single bush peaking out a rock crevice. The race was on to save the species, and with the determination and passion of some dedicated people, the Lord Howe Island Stick Insect was brought back from the edge of extinction. Rohan Cleave's inspiring text and Coral Tulloch's evocative illustrations showcase this amazing insect, and give us hope and proof that we can make a difference." Dr Jane Goodall, DBE, Founder - The Jane Goodall Institute & UN Messenger of Peace, www.janegoodall.org.au"
Teachers Notes available.