Other Words for Smoke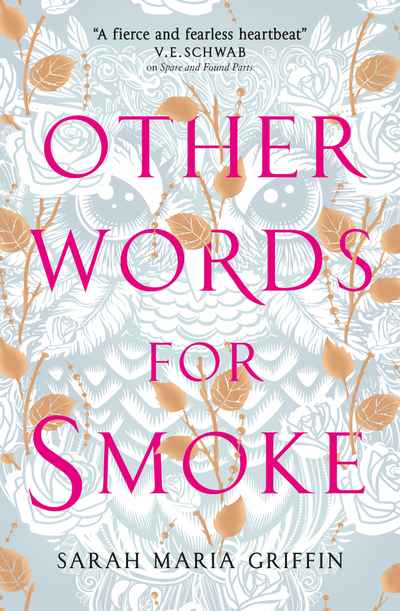 Paperback | May 2019 | Titan Publishing Group | 9781789090086 | 336pp | 198x130mm | GEN | AUD$19.99, NZD$24.99


When the house at the end of the lane burned down, none of the townspeople knew what happened. A tragedy, they called it. Poor Rita Frost and her ward, Bevan, lost to the flames. Only Mae and Rossa, Rita's niece and nephew, know what happened that fateful summer.

Only they know about the owl in the wall, the uncanny cat, the dark powers that devour love and fear. Only they know about the trials of loving someone who longs for power, for freedom, for magic. Only they know what brought the house tumbling down around them. And they'll never, ever breathe a word.
Captivating and atmospheric, Sarah Maria Griffin's second novel explores the balance between love and fear, youth and maturity, and good and evil. With an unusual structure spanning five summers, intriguing characters, and a dark mystery, this uncommon novel will appeal to readers of Rin Chupeco's The Bone Witch and Madeleine Roux's House of Furies.

'A beautiful novel woven from magic that seeps into your blood and bones and lingers there...Sarah's gorgeous prose will haunt you.' — Christina Henry, bestselling author of Alice and Lost Boy
'This is a fascinating coming-of-age story with magical elements that feel both grounded and properly mystifying...Where this book really shines is in Griffin's depiction of teenage longing, the awful misery of being in love with someone who doesn't love you back, or outgrowing your old childish attachments. There are some gorgeous moments in this book that have stuck with me since I finished reading it, and the ending totally got me choked up. Griffin has a keen eye for the beautiful agony of adolescence, and that's what makes this book such a compelling read.' — Charlie Jane Anders, bestselling author of All the Birds in the Sky
'To say this novel, dripping with pull and promise, is good, would be an understatement and an oversimplification. It's the kind of good that is both wonderful and horrifying simultaneously, awful and wrong and gorgeous as its shadowy and powerful wallpaper owl. It's the kind of good that makes you stop reading to catch your breath on a crowded train, that makes your face ache from smiling and brings unsettling dreams when you close your eyes. As bright as magic and as dark as Ireland's history, this book is a brilliant piece of feminine-powered complexity.' — Matt Killeen, bestselling author of Orphan Monster Spy